Agitator - HYDROMIX
A BASIC FOR ALL SIMPLE MIXING OPERATIONS, IN ALL INDUSTRIAL PROCESSES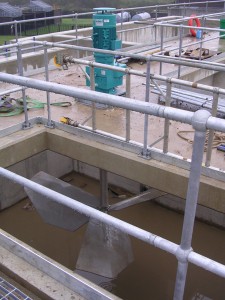 HYDROMIX is a sealing free agitator. This is a strongly and simply built top entry agitator that is perfectly adapted to liquid + liquid or liquid + additive blending, under atmospheric pressure and in room temperature.
HYDROMIX is highly used for physico-chemical treatment in drinking water production plants (coagulation) and for sludge blending and treatment in waste water treatment plants. It is also used in industrial effluents treatment processes and for desalinization of sea water. Many other industries such as chemistry, sugar processing, paper production, paint production and cosmetics use HYDROMIX for simple mixing operations or for storage.
HYDROMIX range includes 14 adjustable standard agitators for tank volumes up to 55 m³ ; design is cutomized over 55 m³ and up to 400 m³.
FLOCMIX is a low speed agitator, used in flocculation operations. FLOCMIX range includes 17 adjustable standard agitators for tank volumes up to 360 m³. Over 360 m³ and up to 400 m³, FLOCMIX design is customized.
APPLICATIONS
HYDROMIX is used for rapid mixing (homogenization, coagulation, preparation of reagents) or for moderate mixing (storage, suspending solids) or for slow mixing (flocculation, maturation of sludge).
INDUSTRIAL PROCESSES: simple blending and storage in chemical and petrochemical industries, sugar, paper, paint and hygien products industries...
ENVIRONMENT INDUSTRY: high, medium or slow blending, potable water, waste water, sludge and industrial effluents treatment, seawater desalinization...
HOW HYDROMIX AGITATOR IS DESIGNED and BUILT
Moto reducer with fixed or varying speed – power up to 30 kW Sleeve and flange coupling – press screw coupling if shaft diameter is < or = to 30 mm. Agitation (shaft + propellers) is currently made of SS304 L or SS316 L or carbon steel – agitation can be coated or made of other special alloys. 1 or 2 agitation impellers (3-blade propeller, 2-blade propeller, bottom turbine), that are either welded on shaft or removable (3-part hub).                                      FIXATION FLANGE squre as standards or circular with various diameter.
MATERIALS
Carbon steel, Stainless Steel, alloy (such as Duplex or super Duplex), rubber coated carbon steel (ebonite), plastic coated carbon steel (halar) in order to resist to corrosion and / or abrasion.
SPECIAL FEATURE
HYDROMIX operates in water treatment process in two essential parts: - coagulation – flash mixing – TTPA Type Mixel propeller - flocculation – slow mixing – TT or TTA Type Mixel propeller HYDROMIX design takes into account some very precise characteristics such as speed gradient, pumping flow, peripheral speed or superficial speed.