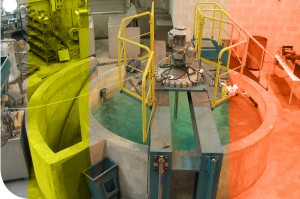 MIXEL specialises in the design and manufacture of standard and made-to-measure mixing appliances (industrial agitators):
shafts up to 15m long
power ratings up to 200kW
sealing system up to 180 bar
agitation mobiles - propellers, turbines, anchors, impellers - up to more than 5 m of diameter
Vertical agitator
MAGNETICALLY DRIVEN AGITATOR
SIDE ENTRY AGITATOR - SIDEMIX
AGITATOR ON SUPPORT
Bottom entry agitator
Our market position
In France or internationally in all application fields, in order to meet the technical, quality, financial, and safety constraints of our customers, our offering relies on 3 essential points:
Consultancy and engineering
The ability to adapt, with the broadest range on the market
Follow up by after-sales
Our means and certifications
MIXEL has its own test station with several tanks, including a 50 m3 tank for real-situation testing of the physical, mechanical, and hydraulic constraints of most agitators. MIXEL and MIXEL SERVICE have certified ISO 9001 version 2015 & ATEX ISO/CEI 80079-34:2018 (certification n° 4000036/B). Our certification offices: LRQA, TÜV, INERIS, INTERTREK, LCIE
These companies have placed their faith in us:
ABB, CEMOI chocolate, PETROBRAS Brasil, AREVA, BASF, ARKEMA, BAYER, SUEZ Group, VEOLIA Group, TECHNIP, LUBRIZOL, SNF, BLUESTAR, SOLVAY Group, SANOFI-AVENTIS, TOTAL, UMICORE Belgium... among others.