For the safe commissioning of agitators, Mixel's involvement during assembly of the units is recommended.
Assembly supervision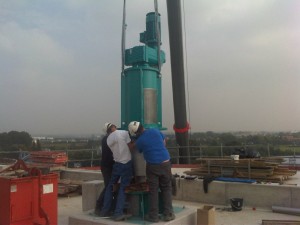 A Mixel expert technician supports and supervises the customer's worksite teams to ensure that assembly is performed in line with industry standards.
The human resources and equipment required are defined by the customer and are at its cost.
Complete agitator assembly
Mixel Service takes charge of all worksite management (team, rental of lifting equipment if necessary, worksite supervision) and guarantees the proper final assembly of the agitators.
Inspection of the assembled agitators
Before switching the units on for the first time, a Mixel expert checks that the customer has correctly assembled the units by performing mechanical tests: measurement of levels, torque values, proper propeller installation (in particular correct rotational direction).
Agitator maintenance

Preventive – this is performed after inspection by a Mixel technician who determines the preventive maintenance actions to be performed: recommendations for correct agitator operation, verification of wear parts, replacement of parts, complete review of equipment on site or at the Mixel workshop, etc.
Curative or repair – this is triggered by a breakdown or breakage. The Mixel technician identifies the causes of the incident and ensures that the unit can be restarted by repairing or replacing the defective parts.