Achieve your price estimage on line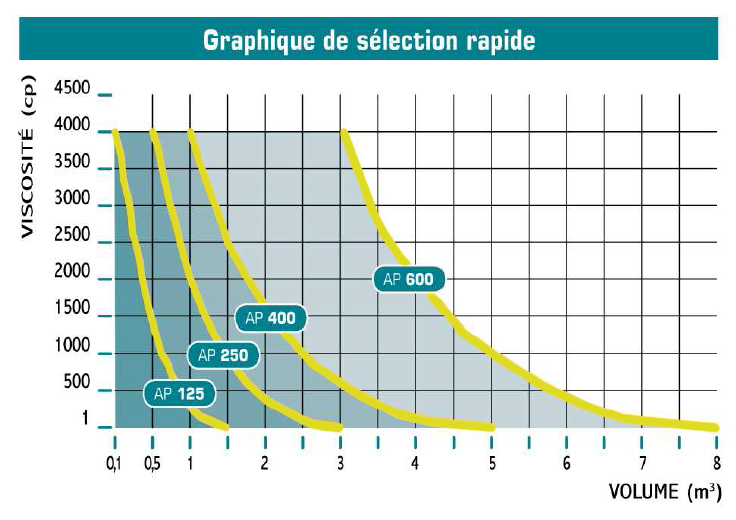 In above diagram, chose the point corresponding both to viscosity of product and volume of tank and then click on it.

Two tables appear.

In first table, use + and - buttons to add or subtract agitators and extra prices and accessories according to your needs.

You can discover your price estimate in the second table.
Unit price
€ HT
Weight
Kg

Choose your AGIPRO

AP125
AGIPRO 125 1B6
Ref. 12330100
562
15

+

-

AP125
coated with HALAR
AGIPRO 125 1B6
Ref. 12330100
979
15

+

-

AP250
AGIPRO 250 1B6
Ref. 12330200
911
20

+

-

AP250
coated with HALAR
AGIPRO 250 1B6
Ref. 12330200
1455
20

+

-

AP400
AGIPRO 400 1B6
Ref. 12330300
1185
30

+

-

AP400
coated with HALAR
AGIPRO 400 1B6
Ref. 12330300
1771
30

+

-

AP600
AGIPRO 600 1B6
Ref. 12330400
1503
60

+

-

ACCESSORIES

AP600 Flange
400x400mm / 304L
ref. 10163500
218
18

+

-

AP250/400 Flange
250x250mm / 304L
ref. 10014200
67
3.5

+

-

AP125 flange
250x250mm SS304L
ref. 12361000
69
3.5

+

-

AP125 steel holder
Galvanised steel/ø200
ref. 11970401
164
11

+

-

AP400 steel holder
Galvanised steel/ø160
ref. 11970400
177
11

+

-

AP125 stainless steel clamp
Motor flange ø 200 / 304L
ref. 12372800
280
7

+

-

AP250/400 stainless steel clamp
Motor flange ø 160 / 304L
ref. 12372600
260
7

+

-

Turbine 400
CONTAINERMIX 4 blades / ø25
ref. 12361500
252
3.25

+

-

TT125 propeller
on 1-part hub
ref. 12331000
179
0.26

+

-

TT250 Propeller
on 1-part hub
ref. 10016600
179
0.55

+

-

TT400 Propeller
on 1-part hub
ref. 12329900
207
2

+

-

TT600 Propeller
on 1-part hub
ref. 11090300
179
8

+

-

Frequency inverter Monophase AP125
0.75MO
Frequency inverter VFD007E21A / MONO
Monophase 0.75 kW 230V
306
1.1

+

-

Frequency inverter Triphase AP125
0.75TR
Frequency inverter VFD007E43A / TRI
Triphase 0.75 kW 400-460V
386
1.2

+

-

Frequency inverter Monophase AP250
0.4MP
Frequency inverter VFD004E21A / MONO
Monophase 0.4 kW 230V
294
1.1

+

-

Frequency inverter Triphase AP250
0.4TR
Frequency inverter VFD004E43A / TRI
Triphase 0.4 kW 400-460V
368
1.2

+

-

Frequency inverter P400 monophase
0.75MO
Frequency inverter VFD007E21A / MONO
Monophase 0.75 kW 230V
306
1.1

+

-

Frequency inverter AP400 triphase
0.75TR
Frequency inverter VFD007E43A / TRI
Triphase 0.75 kW 400-460V
386
1.2

+

-

Frequency inverter AP600 monophase
1.5MO
Frequency inverter VFD015E21A / MONO
Monophase 1.5 kW 230V
362
1.1

+

-

Frequency inverter AP600 triphase
1.5TR
Frequency inverter VFD015E43A / TRI
Triphase 1.5 kW 400-460V
421
1.2

+

-

EXTRA PRICE

REDUCING LENGTH OF AGITATION SHAFT (Maxi standard length = 1200mm)
REDUCING LENGTH OF AGITATION SHAFT (Maxi standard length = 1500mm)
REDUCING LENGTH OF AGITATION SHAFT (Maxi standard length = 1500mm)
REDUCING LENGTH OF AGITATION SHAFT (Maxi standard length = 2000mm)
ML AP125/250/400
500
Reducing length of agitation shaft to 500mm
60

+

-

ML AP125/250/400
550
Reducing length of agitation shaft to 550mm
60

+

-

ML AP125/250/400
600
Reducing length of agitation shaft to 600mm
60

+

-

ML AP125/250/400
650
Reducing length of agitation shaft to 650mm
90

+

-

ML AP125/250/400
700
Reducing length of agitation shaft to 700mm
60

+

-

ML AP125/250/400
750
Reducing length of agitation shaft to 750mm
60

+

-

ML AP125/250/400
800
Reducing length of agitation shaft to 800mm
60

+

-

ML AP125/250/400
850
Reducing length of agitation shaft to 850mm
60

+

-

ML AP125/250/400
900
Reducing length of agitation shaft to 900mm
60

+

-

ML AP125/250/400
950
Reducing length of agitation shaft to 950mm
60

+

-

ML AP125/250/400
1000
Reducing length of agitation shaft to 1000mm
60

+

-

ML AP125/250/400
1050
Reducing length of agitation shaft to 1050mm
60

+

-

ML AP125/250/400
1100
Reducing length of agitation shaft to 1100mm
60

+

-

ML AP125/250/400
1150
Reducing length of agitation shaft to 1150mm
60

+

-

ML AP250/400
1200
Reducing length of agitation shaft to 1200mm
60

+

-

ML AP250/400
1250
Reducing length of agitation shaft to 1250mm
60

+

-

ML AP250/400
1300
Reducing length of agitation shaft to 1300mm
60

+

-

ML AP250/400
1350
Reducing length of agitation shaft to 1350mm
60

+

-

ML AP250/400
1400
Reducing length of agitation shaft to 1400mm
60

+

-

ML AP250/400
1450
Reducing length of agitation shaft to 1450mm
60

+

-

ML AP600
600
Reducing length of agitation shaft to 600mm
90

+

-

ML AP600
650
Reducing length of agitation shaft to 650mm
90

+

-

ML AP600
700
Reducing length of agitation shaft to 700mm
90

+

-

ML AP600
750
Reducing length of agitation shaft to 750mm
90

+

-

ML AP600
800
Reducing length of agitation shaft to 800mm
90

+

-

ML AP600
850
Reducing length of agitation shaft to 850mm
90

+

-

ML AP600
900
Reducing length of agitation shaft to 900mm
90

+

-

ML AP600
950
Reducing length of agitation shaft to 950mm
90

+

-

ML AP600
1000
Reducing length of agitation shaft to 1000mm
90

+

-

ML AP600
1050
Reducing length of agitation shaft to 1050mm
90

+

-

ML AP600
1100
Reducing length of agitation shaft to 1100mm
90

+

-

ML AP600
1150
Reducing length of agitation shaft to 1150mm
90

+

-

ML AP600
1200
Reducing length of agitation shaft to 1200mm
90

+

-

ML AP600
1250
Reducing length of agitation shaft to 1250mm
90

+

-

ML AP600
1300
Reducing length of agitation shaft to 1300mm
90

+

-

ML AP600
1350
Reducing length of agitation shaft to 1350mm
90

+

-

ML AP600
1400
Reducing length of agitation shaft to 1400mm
90

+

-

ML AP600
1450
Reducing length of agitation shaft to 1450mm
90

+

-

ML AP600
1500
Reducing length of agitation shaft to 1500mm
90

+

-

ML AP600
1550
Reducing length of agitation shaft to 1550mm
90

+

-

ML AP600
1600
Reducing length of agitation shaft to 1600mm
90

+

-

ML AP600
1650
Reducing length of agitation shaft to 1650mm
90

+

-

ML AP600
1700
Reducing length of agitation shaft to 1700mm
90

+

-

ML AP600
1750
Reducing length of agitation shaft to 1750mm
90

+

-

ML AP600
1800
Reducing length of agitation shaft to 1800mm
90

+

-

ML AP600
1850
Reducing length of agitation shaft to 1850mm
90

+

-

ML AP600
1900
Reducing length of agitation shaft to 1900mm
90

+

-

ML AP600
1950
Reducing length of agitation shaft to 1950mm
90

+

-
Price estimate